2012+ ZX-14 Kawasaki
The newest ZX-14R is a great package right off the showroom floor. We make it even better. We rework the head with our CNC profile, mill it to get a small compression increase, and add custom Web Cams. The results speak for themselves: a stunning 220hp on pump gas and a huge 230hp on MR12. Very rideable and completely streetable!!! Come get some!! The package includes heavy duty valve springs plus tuning through the stock ECU.
CLICK OR CALL NOW FOR CURRENT PRICING AND AVAILABILITY!

BMW Stroker Motor - FINISHED!
Our 2mm bore x 4mm stroke street motor is on the road.
The graph below shows a massive 246.3hp on VP MR12 race fuel.
This graph shows a similarly impressive 237.3hp on VP 110 race fuel. Remember what stock was like?
We don't either!
Our hard work with the new BMW S1000RR motor offers a huge payoff: the most power ever in a streetable 1134cc package. This was done with a fairly low compression ratio that runs well on 93 octane pump fuel. The bottom end rocks four CP/KWS Motorsports custom pistons, a Marine +4mm crank, and Carrillo rods for incredible strength and ultimate power. The head has a KWS CNC port job and was finished on our Newen valve seat machine. The cams are our custom design built by Web-Cam, plus we installed some heavy-duty valve springs and head studs from APE to be sure it all stays together. We added new bearings, a new oil pump, and a fresh cam chain, and then tuned the Bazzaz Z-Fi fuel controller on our Dynojet 250i dyno. If you are ready for the ultimate BMW...
This project could not have been possible without the assistance or products from the following companies: Pitt Bull Racing Products' Charlie VanValkenburgh allowed us to learn more about this motor in a very short time by building a bike that has been tested and set national records at Maxton, NC, and Bonneville. Millennium Technologies did the bore and plate on this motor and their work is always second to none. Their precision and accuracy allows us to build some of the best engines in the racing community. CP Pistons built the 82mm pistons that helped this bike make the power and torque that it did. Carrillo connecting rods will make sure this combination stays together for years to come. Marine Crankshaft did the 4mm stroker crankshaft for us and, as usual, they paid exquisite attention to every detail. Web-Cam camshafts built us the cam grind that helps keep the original character of the motor intact. VP Racing Fuel was our go-to for combustion because we have consistently seen it make more power than any other fuels we tested. Motul 300V racing oil makes sure that all the parts spin freely and last a long time.
NEW KWS T-Shirts! All sizes, $11.95
Order yours today!
JUST ARRIVED: 84mm bored & plated, SOLID BILLET BLOCK for all years Suzuki Hayabusa, for big NOS or turbo, in stock now!

CLICK OR CALL NOW FOR CURRENT PRICING AND AVAILABILITY!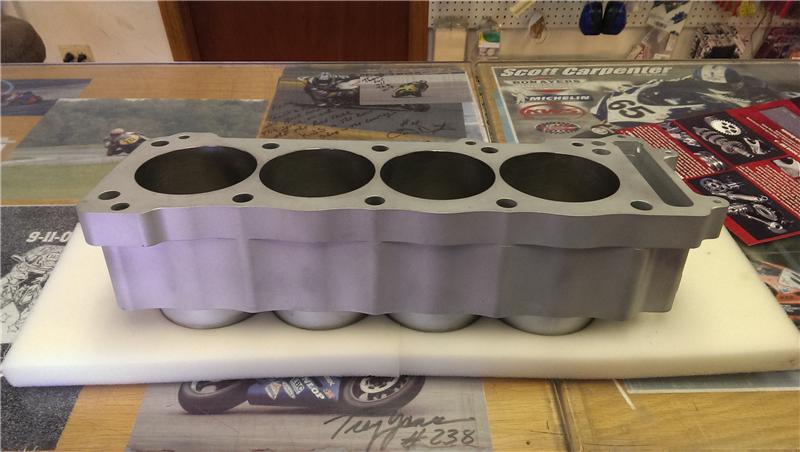 All Brands
Business Hours
| | | |
| --- | --- | --- |
| M-F | 9:00 a.m. | 6:00 p.m. |
| Sat | 9:00 a.m. | 2:00 p.m. |
| Sun | Closed | |