Kawasaki ECU Tuning - NOW AVAILABLE!
ECU Tuning is now available on all late model Kawasaki fuel injected models
BMW Stroker Motor - FINISHED!
2mm bore x 4mm stroke street motor on the road
The graph below was done with VP MR12 race fuel, achieving 246.3 HP!
The graph below was done with VP 110 race fuel, achieving 237.3 HP.
Our hard work has come to a good end with the new BMW S1000RR motor making the most ever in a streeable 1134cc package. This was done with a fairly low compression ratio that can be run on 93 octane pump fuel.. The motor consists of 4 CP KWS Motorsports custom pistons, a Marine +4mm crank, Carrillo rods for the lower end mods. The head is a KWS CNC port job and was finished on our Newen valve/seat machine. The cams are done by Web-Cam to our design and we also installed some HD valve springs and HD head studs from APE to be sure in all stays together. New bearing, oil pump and cam chain were also installed. Total for all this fun will be 9,995.00 and does include a Bazzaz fuel control. Call if you have questions and ask for Kevin or Mike.
This project could not have been possible without the assistance or products of the following companies: Pitt Bull Racing Products, Charlie Van Vaulkenberg allowed us to learn more about this motor in a very short time by building a bike that has been tested and set national records at Maxton, NC, and Bonneville. Millennium Technologies did the boring plate on this motor and their work is always second to none. Their precision and accuracy always allows us to build some of the best engines in the racing community. CP Pistons built the 82mm pistons that helped this bike
make
the power and torque that it did. Carrillo connecting rods will make sure this combination stays together for years to come. Marine Crankshaft did the 4mm stroker crankshaft for us and as usual, they paid attention to every detail. Web-Cam's camshafts built us the cam grind that helps keep the original character of the motor intact. VP Racing Fuel was used because we have consistently seen it make more power than any other fuels we have tested. Motul 300V racing oil makes sure that all the parts spin freely and last a long time.
NEW KWS T-Shirts! All sizes, $11.95
Order yours today!
JUST ARRIVED: 84mm Bored & Plated, Solid Billet Block for All years Suzuki Hayabusa, for Big NOS or Turbo, in stock, call today!
843-552-7177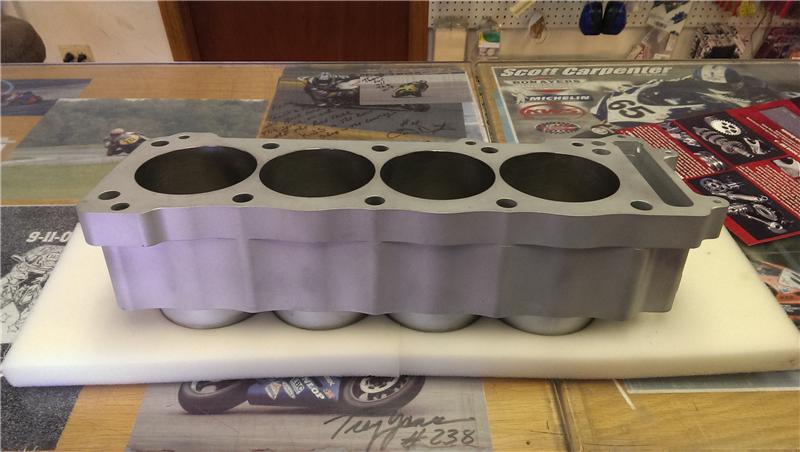 KWS Motorsports is a full-service race shop specializing in high performance late model fuel-injected sportbikes and sportbike engines. Our mission is to provide our customers with the most powerful, lightest, and fastest motorcycles and motorcycle-powered vehicles in the world. KWS was founded in 1993 by motorcycle racer Kevin Hunt. We are a company run by and employing motorcycle racers. We offer over 20 years of racing experience and knowledge to our customers. KWS-built engines have been credited with several world top speed records, professional road racing championships, club racing championships, and hundreds of race wins.
News
KWS Video Shop Tour Circa 2008
All Brands
Loading...
Business Hours
| | | |
| --- | --- | --- |
| M-F | 9:00 a.m. | 6:00 p.m. |
| Sat | 9:00 a.m. | 2:00 p.m. |
| Sun | Closed | |